When Debbie Rix saw the tragic, iconic image of three-year-old Alan Kurdi lying lifeless on a beach in Turkey, she decided it was time to take action.
"In my store, the front page of our national newspaper had that picture above the fold. People kept coming in and turning the newspaper over, saying 'I don't want to see that'.
"I kept turning it back over and saying: 'We have to look at this – we can't look away'."
The next day Debbie put a call out through Facebook that resonated with many friends, and friends of friends, all of whom had been struck by Alan's fate and the human cost of indifference to the plight of refugees.
A month later, their sponsorship group was 50 people strong. By August 2016, they had raised thousands of Canadian dollars and navigated a bureaucratic maze in order to welcome a family from southern Syria: Ahmed, his wife Razan, their children Aya, seven, and Raed, five, along with Ahmed's sister Hoda, her boys Louai, 17, and Wael, 13, and grandma Khadija.
Refugees as a positive election issue
As remarkable wave of support rippled across Canada, more and more people came forward to support refugees. More than 14,000 Syrians arrived between November 2015 and late January 2017 after being sponsored by community groups like Debbie's.
"The amazing thing is that it actually became an election issue," says Gloria Nazfiger, Refugee Coordinator with Amnesty International Canada. "Refugee issues are never election issues in Canada.
"But there was such a demand on the part of Canadians to respond to a crisis. The government we currently have [led by Prime Minister Justin Trudeau] was elected in part because it made its promise to the Canadian people to respond to the demand," she explains.
Building new communities
Sponsors raise approximately 27,000 Canadian dollars (CAD) (US$20,000) to bring over a family of four, roughly the same as Canada's social assistance rates. They also commit to helping the family settle into Canadian life over their first year in the country.
The determination of these community groups to take action and effect change themselves is unprecedented. But it is a model that can be easily replicated elsewhere.
Canada operated a tight immigration policy until the late 1970s, when it introduced sponsorship in response to the so-called "boat people" fleeing Southeast Asia after the US war in Vietnam. Since then, more than 288,000 so-called "newcomers" or "new Canadians" have made Canada their home – supported by hundreds of thousands of Canadians.
The system gives new arrivals a ready-made network of people they can count on for support – even friendship. "People who come through private sponsorship, it's easy for them to adapt to the new life," says Ahmed. "We have friends already."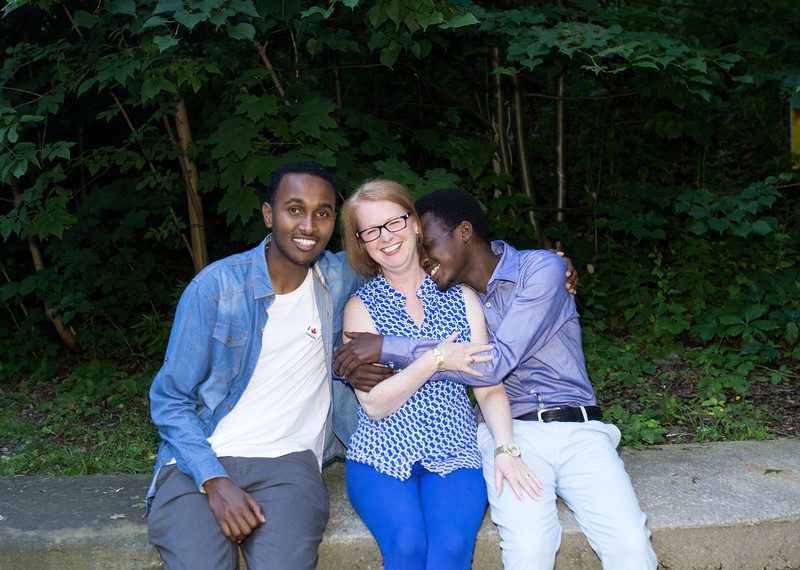 A network of people with open hearts
Some groups have focused their efforts on supporting refugees from other parts of the world. "We were advised that refugees from Africa, for example, who have less of a profile in the media, can take three to five years for a sponsorship," says Catherine LeBlanc-Miller, who works in Toronto City Hall.
Catherine's group sponsored three African men in their 20s – two from Sudan and one Somali. One of them, Mohamed Farah, recently found a job at a health clinic through his network of sponsors. "I'd just been here for two months and landed into employment. I think that wouldn't be achieved without all the people supporting me," Mohamed says.
He thinks other countries should follow Canada's example of sponsorship: "This is a successful project," he says. "It's a unique thing. 
"There is a proverb in my culture which says an open heart is entered but not an open door. So if you see an open door you will not enter it, but you will enter it if the person who is there has an open heart. I think having a great heart, it's the first thing that is encouraging people to sponsor other people."
A win-win way to welcome refugees?
The support of sponsors has not just provided immediate relief to families in need, but helped to create strong and more vibrant communities and enriching Canada's diversity.
The process isn't always easy, though. Some refugees cannot speak English, or even read and write in certain cases. A new country and a new culture can also prove daunting.
"It's not a simple thing," says Kenzu Abdella, originally from Ethiopia and a sponsor in Peterborough – a town east of Toronto. "But at the same time it's not a hard thing. If your heart is to be by the side of people who are suffering, in my experience it always works out."
"Everybody I talk to, Canadians here, feel very fortunate to have been able to do this because they can see the future and what it can do for the country."
Kenzu recently decided to go into business with a sponsored Syrian family, Randa and Mohammed Alftih: "This is this is a win-win," he says. "You bring me over to help me, and I'm here to be a good citizen and contribute to society. Even in this business venture, I benefit, and the family benefit."
Part of the family
Back in Toronto, almost a year after they arrived, Ahmed and his family are settled in a quiet suburb with tidy front gardens and family cars parked in the driveway.
The adults are learning English, the kids are in school, and Ahmed and Louai are attending a training course in hospitality at the Ritz-Carlton hotel. For Ahmed, it's a path back to the life he knew before the war changed everything. He used to run a 300-seat restaurant that thronged with tourists until the bombing forced him to flee.
"My goal in the future is to open my own Syrian restaurant," he says. "There are many Syrian and Arabic restaurants already in Toronto. But mine will be the best."
Sponsorship in Canada lasts for at least 12 months, but often extends beyond that. "I know that they were looking at me like: 'Wait, after a year we're not going to see you again?'," says Debbie.
"I had to reassure them that no, that is not the case. This is a very close relationship and I feel part of their family, this is not going to end. We fortunately have enough money to support them for an additional six months so we will not be done even financially at the end of the year.
"And I expect to be invited to Aya's wedding – I better be! This is a lifelong relationship for me and for several others in the group. We're all the richer for it."