In every part of the world people are forced out of their homes without warning or consultation, without access to justice and without compensation. These forced evictions often involve violence. They destroy livelihoods and social networks. Forced evictions hurt the poorest and most marginalized people. Together we can end these human rights violations.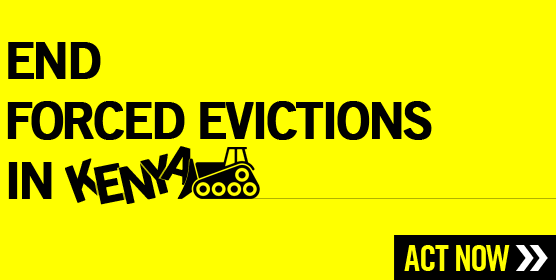 Marginalized communities living in inadequate conditions in informal settlements and slums are at particular risk of forced eviction. Women suffer disproportionately from forced evictions and often experience a greater risk of violence after they have been evicted.
Forced evictions are evictions carried out without legal protections. This means those affected are not genuinely consulted to identify feasible alternatives to eviction nor are they given adequate notice. Communities do not have access to effective remedies such as compensation and are not offered adequate alternative housing.
We all have the right to housing and to be protected from forced evictions, which are illegal and a human rights violation. Governments must act to prohibit and prevent them.
To stay updated about these and other actions follow @demanddignity on twitter and find us on facebook at /demanddignityglobal
Read more about our work on forced evictions and take action to End Forced Evictions!
Latest blogs
"You can't give up; you have to fight for your rights!" - 13 June 2013
Violent evictions a worrying sign for Kenya's new government - 25 May 2013
'We'll throw you all out'– Forced eviction threat for Haiti earthquake victims - 23 April 2013
Bringing home Romareality to the heart of the EU - 11 April 2013
"Don't finance forced evictions" - 7 March 2013