Transforming Pain into Hope, Human Rights Defenders in the Americas

Human rights defenders in the Americas play a vital role in exposing and combating human rights violations. Many have paid a high price for their courageous efforts to break cycles of injustice, discrimination and impunity. In the past few years, hundreds have been persecuted and attacked. Despite the lack of effective protection for themselves and their families and widespread impunity, they continue their struggle – transforming pain into hope.
Standing up for human rights in the Americas
In the past few years, Amnesty International has documented hundreds of attacks on human rights defenders in the Americas region. In this map you will find 6 real cases of human rights defenders from the North, Central, South America and the Caribbean. They face great risks for stading up for human rights. They show some of the challenges and risks defenders are facing across the region.
Protect human rights defenders in the Americas
Support them by signing the petition to their President calling for public recognition, effective protection and an end to impunity for human rights abuses against defenders. Take action
A defender's voice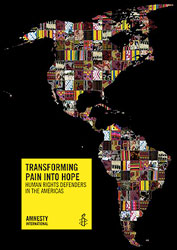 New regional report: Transforming Pain into Hope, Human Rights Defenders in the Americas
As the clamour for human rights has grown in strength throughout the Americas, those at the forefront of these demands have been met with threats, intimidation and violence. For decades human rights defenders have been the targets of grave and frequent abuses. The last few years have been no exception. On the contrary, reported attacks against defenders across the region have been on the rise in recent years. This report provides a contextual and systematic analysis of the situation of defenders across the region and is based on almost 300 cases that Amnesty International has taken action on primarily in the period between January 2010 and September 2012. Download
You can also send a postcard...
These postcards are about courageous human rigths defenders from the Americas and the risks they face for standing up for human rights. They include concrete petitions that could impact their lives and allow them to continue working safely. Let the authorities in their countries know that these human rights defenders are not alone and call on them to take action.